Square One Dental
Welcomes New Patients
Your Mississauga Family Dentist
Great Hours
We are open 7 days a week with evening and weekend hours 
Comprehensive Services
We are a one-stop dental clinic, with a broad range of dental services
Convenient Location
We have a wheelchair-accessible location inside Walmart
Leave with a Smile You Love
The friendly dentists at Square One Dental are here to help you smile! We welcome patients of all ages, including families, and offer various services to meet all your oral health needs. From restorative treatments to professional hygiene appointments and emergency care, we're here to take care of you.
Family & General Dentistry
Services For The Whole Family
We're pleased to provide a full range of dental services for the whole family. We offer general, restorative, and cosmetic procedures. We also offer orthodontic treatments and dental appliances. For your complex procedures, we provide specialty dentistry services either in-house or with referrals to trusted experts in Mississauga.
Our dental team is ready to give you something to smile about! We provide a wide range of dental services in Mississauga making us a one-stop destination for all of your dental needs.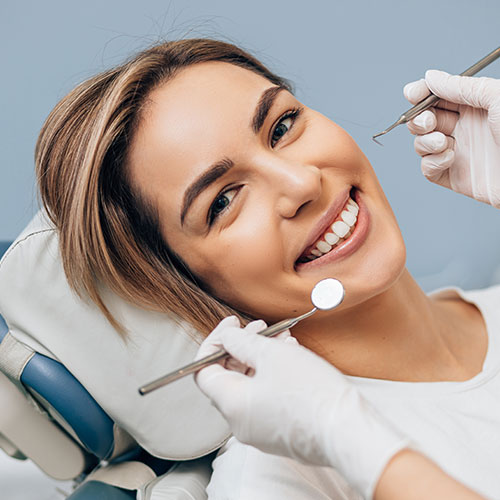 In The Heart Of Your Community
Square One Dental is located on the lower level of the Wal-Mart in Square One Shopping Centre. With ample free parking and the ability to explore the mall before and after their appointment, our practice offers patients convenient dental care.
When Was Your Last Visit?
Take Care Of Your Oral Health & Book Your Dental Hygiene Appointment Today