At Square One Dental, we are committed to providing excellent, friendly dental care to all our patients. Whether this is your first appointment with us or you've been with us for years, your oral health is our top focus. Regular oral exams are vital to maintaining strong, healthy teeth and beautiful smiles.
Families Welcome at Square One Dental in Mississauga
We welcome new patients of all ages, including families. Our dental professionals are experienced in helping children feel comfortable during dental exams. We take the time to explain all of our tools and procedures and inspire kids to take an interest in caring for their teeth. We recommend all children have their first dental visit by the age of two.
What to Expect at a New Patient Exam
We request that new patients arrive at the dental clinic fifteen minutes ahead of the first scheduled appointment to ensure we have time to get to know more about you and your specific health needs. You'll be required to fill out a few forms about your general health history and your insurance. Please bring any dental claim paperwork with you. Your first oral exam will take slightly longer as our dentists get to know you, examine your teeth, and discuss any of your questions or concerns.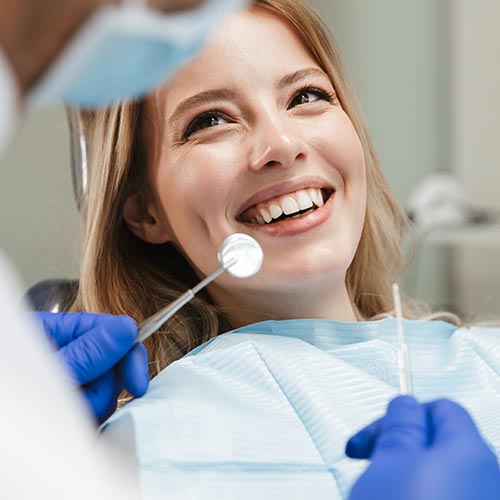 Dental Hygiene Appointments
Dental Hygiene Appointments in Mississauga
Our dentists recommend scheduling regular dental hygiene appointments twice a year for the best oral health possible. Combine careful tartar removal with a diligent at-home routine, and you'll be setting yourself up for a healthy smile for years to come! Our dental professionals are always happy to work with patients of all ages and stages.
Your Smile Will Look and Feel Great
Our professional dental hygienists will make your mouth look and feel great after your visit. We use modern tools and techniques to remove stubborn tartar and polish your teeth for that fresh dentist-clean feel. During your visit, we'll also follow up with tips and pointers for better brushing and flossing as needed. We consider dental hygiene as a partnership between you and our dental hygienists, so we always welcome your questions and concerns and provide detailed, practical tools and techniques.
Your Dental Care Plan
Every individual has different oral care needs. Talk to us about your dental concerns and we'll create a plan catered to you. Do you have sensitive teeth? We can recommend products and hygiene techniques to help with that. Do you wish you had a whiter smile? We'll tell you how you can make that happen. We're here to answer all of your dentistry questions so that together, we can maintain your healthy smile.
When Was Your Last Visit?
Book Your Dental Appointment Today